eBooks by Marko Lampas

My Life in America and What Maria Callas Taught Me

Manos' Encounter With The Gods, Volume I

Manos Encounter With The Gods, Volume II

Manos' Encounter With The Gods, Volume III

Falsely Accused

Adriana

The Masked Assassin

The Passion and Perils of Love

Vow to Vengeance
The books listed here are in eBook format. The Masked Assassin, the Manos trilogy, Adriana, Falsely Accused, The Passion and Perils of Love, and The Masked Assassin are available in Kindle format. Others can be read using the free Adobe Acrobat Reader.
---
My Life In America And What Maria Callas Taught Me
After arriving in America and blessed with a talent as yet undeveloped, Marko Lampas was drawn to an operatic career. In his autobiography, "My Life In America And What Maria Callas Taught Me," he reflects back upon his life, career and performances and recalls how happily fate brought him in contact with Maria Callas, culminating in a relationship that combined both music and friendship.
From his humble upbringing in Greece to his arrival in America, Mr. Lampas details the ups and downs, the successes and pitfalls, the loves gained and lost, which he experienced in fulfilling his dream. Charming anecdotes fill this memoir, such as his encounter with John Cassavetes in pursuit of an acting career. This brief meeting happily led not to an acting career but to the commencement of his musical studies, resulting in two fulfilling careers: first as an operatic tenor and then as a practicing voice teacher.
Mr. Lampas, through his own experiences, shares the hazards and strains of a career in the performing arts and offers advice and counsel to singers who may encounter similar issues in striving for success. He also discusses the balance required to juggle one's performing and private lives as well as the diversions that can impede singers from attaining their goals.
His special relationship with Maria Callas and the encouragement she gave him to pursue his career is recounted faithfully. His participation in her Master Class at Juilliard was a bonus which neither party anticipated.
While Lampas received several scholarships from The Metropolitan Opera, and The Juilliard School, he was still unable to earn enough to support his young family. For a period of time he had to abandon his dreams of an operatic career.
A few years later Lampas met and married Barbara Iona Miller, an accomplished soprano. With her help and encouragement he found himself once again on the operatic stage singing leading tenor roles in Europe and South America as well as in the United States.
Finally realizing his lifelong ambition, Marko Lampas now teaches and guides young singers to realize their own artistic potential.
"My Life In America And What Maria Callas Taught Me" is available for purchase on amazon.com and barnesandnoble.com. It can also be purchased or downloaded on lulu.com.
Marko Lampas appears on Facebook; on his website https://www.millerlampas.com; and on YouTube at http://www.youtube.com/user/HeraklioneArts.
---
Mános' Encounter With The Gods
A trilogy; over 1000 pages
Volume I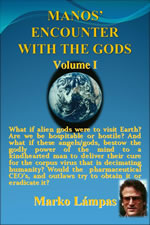 What if alien gods were to visit Earth? Would we become hospitable or hostile? And what if there isn't only one god, but numerous angels/gods who govern the vast universe, what then? Can we accept this fact, and still rationalize belief in a single god? And what if these angels/gods, bestow the godly power of the mind to a kindhearted man to deliver their cure for the corpus virus that is decimating humanity? Would the seven largest pharmaceutical CEO's try to obtain it, or eradicate it?
And what if the gods command our protagonist to reform all who profit from exploiting the disadvantaged? The rich and powerful, consumed by greed, yield to his demands to return their plundered excessive fortunes to end worldwide suffering, and protect our planet? Or would they seek his demise? These are the questions Marko Lampas must resolve in his epic trilogy.
Volume II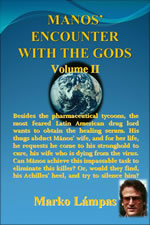 The god's request is, for the wonder drug, which will cure most illnesses, to be distributed free. Hence, placing Manos in constant peril, as the sole steward of this godly gift. Would-be assassins make repeated attempts to end his life, unaware that the gods have him under their shield. Besides the pharmaceutical tycoons, other outlaws try to obtain the secret of the cure. Among them is none other than the most feared Latin American drug lord. He orders his thugs to abduct Manos' wife Penelope and threatens to kill her if Manos doesn't come to his stronghold in Bolivia to cure his wife who is dying from the virus.
Manos offers two choices to the antagonists he encounters: inner peace if they abandon greed and lawlessness — or death. Corporate moguls, dictators, outllaws, presidents, politicians, monarchs, and others in positions of power and wealth, laugh at his request. They pay the ultimate price. The wise ones accept virtue and enter the path to eternal life
Volume III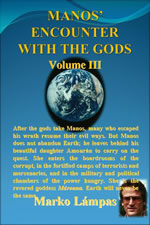 After the gods take Manos, many who escaped his wrath resume their evil ways. But Manos does not abandon Earth; he leaves behind his beautiful daughter Amourán to carry on the quest. She enters the boardrooms of the corrupt, in the fortified camps of terrorists and mercenaries, and in the military and political chambers of the power hungry. She is the revered goddess Márouna. Earth will never be the same.
---
Vow to Vengeance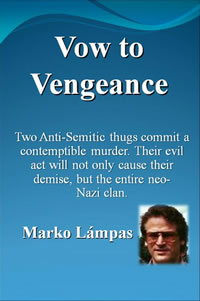 Two Anti-Semitic skinhead thugs seething with racial hatred enter the Long Island home of Benjamin and Gila Stein and murder them. However, they were unable to finish the entire family, as planned, the two daughters Anat seventeen-year-old and nineteen-year-old Dalia managed to escape. At the murder scene the sisters pledge a vow to hunt the killers and have them pay for their parent's murder. For a safety reason, their grandparents took them to Israel were for the past three-years the girls trained strenuously in martial arts and other use of weaponry under the guidance of Captain Aram Kadar. After their successful training and now in complete metamorphoses as older and over six feet tall with stunning looks. Captain, Kadar told them, (This would be your arsenal girls; none would believe you to be the deadly killers.) Their hunt ends in a small town in Pennsylvania where the killers are smitten by the girl's beauty and fall in the web of the black widow spider. However, the girls did not end with the two thugs demise. They eliminate the entire anti-Semitic neo-Nazi clan.
---
Falsely Accused
Handsome, schoolteacher Thomas Robson is falsely accused of molesting the son of the woman he loves, Elena Sideris. A beautiful ex-lover, and power-hungry prosecutor Marsha Stanley, along with a delusional divorcee Doris Branford, scheme to get him convicted and sent to prison. It appears to be the perfect crime; destroying ex lover is a most satisfying revenge. That is until Elena and her son, Luke who knows Thomas's innocence, have vowed to discover the truth in this tale of love, jealousy, and murder. Somehow they must reveal the heart of the deception. And do it quickly, because someone is trying to permanently silence the major players in the trial. They must do what the police have not been able to do—discover who framed a good man and how to bring the perpetrators to justice. As the captivating plot unfolds, the heart of the deception is revealed, and justice is served.
---
Adriana
Young Adriana Samoza rebels against the heartless conditions and the exploitation of the poverty stricken workers by her wealthy family, The Samoza Dynasty. She resents the cruel manner with which her brother Paulo, degrades the field workers who by their labor have made her family wealthy. When her brother fires the young worker Mario Bellini for showing interest in her, she becomes the tigress none have witnessed before.
Adriana abandons her family and way of life to seek a new one with Mario and his grandmother, Sofia. The star-crossed lovers endure all the pain and cruelty their pure love is confronted with. Pablo, angered by his sister's defiance, vows to teach Mario a lesson, where Mario almost dies as a result. Adriana's father, who has redeemed himself by changing his ways from a life of heartlessness and greed, discovers that his daughter and Mario possess the kindness and wisdom to continue the operations of the Samoza Enterprises. The attempt on Mario's life by her vengeful older brother reverses the hate and bigotry of her parents to soften their hearts and forever change the lives of so many. Goodness prevails, and all is well, until tragedy strikes.
---
The Passion and Perils of Love
Novelist Laurence Brando recalls his affairs composed of love's attributes: including betrayal, vengeance and murder. These perils of love sat on the back of his tongue like the ghost of a sour lemon, bitten without thought or hesitation and regretted only once swallowed. His last affair was with the most beautiful woman, the one who would offer him the outmost ecstasy and agony. Love bestows.
The seductress Joanna Ocklenburg will play the dangerous game of love, having one single liaison with numerous suitors and then like a phantom vanish. She has made a pledge not to fall in love, and live the life of a tigress. She'll conceive a child or two by her choice and not reveal the father. Laurence would be one of the fathers. He would never know of his son, until years past.
One of her suitors, Paul Baron, a successful corporate lawyer he'd be caught in Joanna's web, and put his life on hold to find her after that one night of unforgettable fervor. His private investigator, would uncover the worst a man can bear. This siren is now in the arms of Laurence Brando. He'd be watching the nights from a concealed place at Laurence's apartment, wrestling with his wild fantasies, swinging from ecstasy: his —to death: hers.
Could Laurence prevent this horrifying premeditate murder?
---
Pandora
A true story.

E-book $10.50



---
The Masked Assassin
What would you do if greedy corporate tycoons, who draw enormous salaries and perks, cost you your job, home, family and dreams? Would you accept this violation and go on with your devastated life or seek revenge? This is the story of one such man whose quest is to even the score. Vengeance is now growing inside him like a parasite, overpowering his being and transforming him into a blood-craving predator. He will eliminate them, one by one, and death will confront them in the most unexpected surroundings. Justice will prevail.